Retail Media strengthens brand and willingness to buy.
.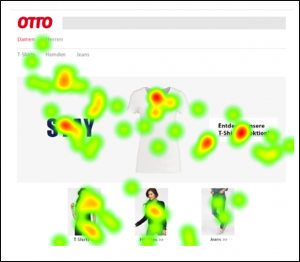 Qualitative study on the effect of advertising media on e-commerce platforms/result: advertising impulse increases purchases by 125 percentt
Hamburg, May 6, 2019 – Amazons instead of Googles: More than one in two people start their product search on the Internet at one of the major e-commerce platforms such as Amazon, About You, Otto and Zalando. More and more brands are using this reach for their marketing. But are advertising media even noticed there? And do they ultimately lead to the conclusion of a purchase? heyconnect has conducted a qualitative study to examine how advertising works on e-commerce platforms. Together with the department "E-Commerce" of the FH Wedel, the platform service provider conducted an eye-tracking study and analysed the influence of retail media on buying behaviour and brand perception.
The results in detail:
Retail Media increases the probability of purchase by 125 percent.
The advertising media are viewed for an average of 1.5 seconds. The brand awareness shows no influence on the perception of the advertising.
Teaser areas with advertising content are fixed for 1.1 seconds on average – and thus 60 percent longer than content areas without advertising.
The influence of advertising on supported brand awareness is enormous: a previously unknown brand achieved a value of 17.5 percent after the study was conducted.
Retail Media can compensate for the brand advance in sales: The purchase probability of the unknown brand is almost as high as that of the well-known brand (almost 20 percent in each case).
"Brands that are not in the relevant set of customers will be lost on the major e-commerce platforms," says Julian Schmolz, Head of Retail Media at heyconnect. "The study results show that Retail Media is a great opportunity for brands to actively move into the focus of a target group that is ready to buy."
"Platforms such as Amazon, OTTO and Zalando have enormous ranges and great customer knowledge," says Prof. Dr. Jan-Paul Lüdtke, head of the e-commerce department at the FH Wedel. "The study shows that advertising on e-commerce platforms has enormous potential. In the USA we already see the trend that Retail Media is seriously competing with established advertising giants such as Google and Facebook".
Recommendations for action for brands:
Retail media campaigns should be used for the final advertising impulse.
Campaigns are suitable for realizing sales increases on e-commerce platforms and for achieving marketing goals – such as increasing awareness.
Even unknown brands can increase their visibility with targeted advertising and stand up to well-known brands.
Study design
In January 2019, 130 purchase transactions by 65 people aged between 18 and 49 years (60 percent female, 40 percent male) on the e-commerce platforms OTTO and Zalando were examined. The test persons were given three to four products of a white T-shirt to choose from, which differed only by brand. An eye-tracking procedure was used to examine the visual perception of different advertising media (Homepage Ad, CategoryAd and ProductAd).
About heyconnect
heyconnect is one of the leading German platform service providers, giving brands access to more than 30 marketplaces in Europe, including Amazon, Zalando, OTTO and About You. The offering includes marketplace integration and management as a basic service. The additional services range from content creation according to the respective specifications of the platforms to fulfillment and logistics as well as marketing with a focus on retail media. heyconnect currently offers more than 100,000 items from over 100 brands across all platforms. Among the best known customers are brands like Lloyd, Set, Cinque, Colmar, Fritzi from Prussia and Hugo Boss Home. In addition to the fashion industry, heyconnect increasingly serves brands from the Home & Living and Cosmetics sectors. Founded in 2012, the Hamburg-based company with 50 employees is headed by the managing directors Florian Curdt and Marcel Brindöpke.
Crowdfunding-Kampagne, 26.02.2016
.
Press release, 06.05.2019